"The hope of the poor will not perish for ever": a StoryMap to tell the story of poverty in Umbria and the commitment of diocesan Caritas to combat social and economic hardship.
The Report on Poverty in Umbria is a tool that analyzes data on poverty in the region in order to examine the conditions and the annual evolution of the phenomenon. At the same time, it provides an overview of the activities of the diocesan Caritas agencies.
Needs: Telling the poverty of Umbria
The Report accurately investigates a critical issue of the territory. ISTAT data show that for the year 2020 – marked by the global spread of Covid19 – we see an increase in the numbers of absolute and relative poverty. In this context, Caritas of the Umbrian Dioceses, through the network of Listening Centers, are committed daily to containing the painful effects of poverty through paths of accompaniment and the construction of responses to needs.
GisAction team was asked to develop a tool that would be useful in the process of building a widespread awareness of the issues. Indeed, the objective is to encourage reflection and activate networks of solidarity. In other words, to use the expression of Bishop Benedetto Tuzia, it is through this instrument that a "rich flowering of generosity and commitment" is sought.
Solution: A StoryMap for the Caritas Poverty Report 
gisAction has developed a StoryMap, a digital storytelling tool, to tell the story of the important role that the diocesan Caritas agencies play in Umbria. The StoryMap displays ISTAT data on poverty in Italy and data relative to Umbria. Maps, graphs and infographics show some segments and categories within the population that may be more at risk of poverty than others. A large part of the work is dedicated to the activity of Caritas in Umbria, showing also territorial differences within the region.
The StoryMap represents a synthesis of multiple data sources: from the 5th Report on Poverty in Umbria, to ISTAT publications, to specific studies carried out on the evolution of Caritas' work in recent years.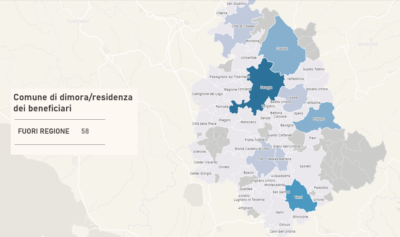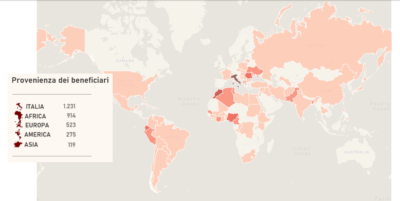 Benefits: 
The StoryMap succeeds in reporting numerous data in a communicative way,  making the reader participate, and therefore confirms itself as an excellent tool for synthesis and communication of the picture of a reality.
This is important to increase the visibility of Caritas Umbria and contributes to the awareness of the regional territory and the local communities regarding the themes of social and economic hardship. Actually, solidarity starts from awareness, and it is the first instrument to contrast difficulties, in order not to give in to resignation and habituation.
Who we worked with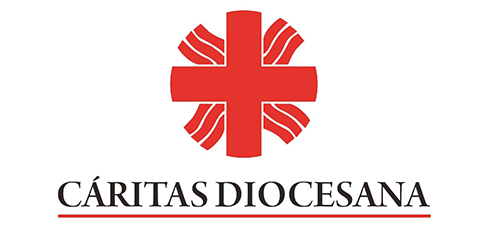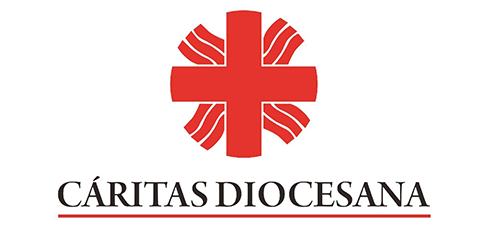 Diocesan Caritas: The diocesan Caritas is the pastoral body with the task of animating the ecclesial communities to the sense of charity towards people and communities in a situation of difficulty and the duty to translate it into concrete interventions with promotional and preventive character where possible.
Scenarios
Services