The Esri Conference explore the role of geospatial technology in achieving the SDGs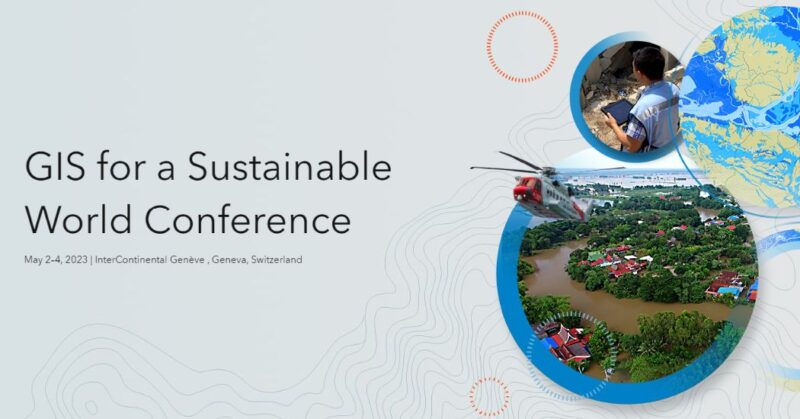 The GIS for a Sustainable World Conference 2023, organized by Esri, is a significant event that brings together experts and stakeholders in sustainable development from all over the world. The conference aims to explore the role of geographic information systems (GIS) in achieving the United Nations' Sustainable Development Goals (SDGs) outlined in the 2030 Agenda. From May 2 to May 4, 2023, Geneva will host the conference, which promises to be a global reference point for sustainable development stakeholders who have adopted geospatial technologies to support their activities or want to learn more about the utility of these tools.
The Conference Program: Technical and Thematic Sessions
The conference program consists of a plenary session and numerous technical or thematic in-depth sessions, providing an opportunity to learn about the latest developments in the Esri ArcGIS platform, workshops on programming languages like Python, 3D mapping, drone operations, geospatial artificial intelligence (GeoAI), satellite data utilization, disaster management, food security, climate resilience, and more.
The use of GIS technology can play a significant role in achieving the SDGs, which is the main focus of this conference. GIS technology provides spatial analysis tools that help policymakers and development stakeholders to make informed decisions. The integration of GIS technology into various sectors such as healthcare, agriculture, and environmental management has resulted in sustainable development.

Save the Children Italia's Data Hub: a work by gisAction
During the plenary session there will be space for the presentation of the work that gisAction has carried out for Save the Children Italy: the Data Hub, a project aimed at enhancing the heritage of data, information, and research conducted by Save the Children on the issue of childhood and adolescence in Italy.
Patrizia Luongo from Save the Children will present the project, highlighting how geospatial approaches and technology integration can innovate and improve the activities of a non-profit organization. The presentation will cover topics such as data, data visualization, geospatial storytelling, SDGs, and the defense of the most vulnerable.
gisAction will also have a stand at the conference in order to present solutions for innovating development cooperation projects, conserving natural resources, and conducting national censuses. Participants are encouraged to visit the stand to learn more about gisAction's products and services. Click the button below to find out more about the registration.