From 17 to 19 April Geneva is hosting the Conference Gis for a Sustainable World.
The event gives a great opportunity to discover how intelligent maps and apps can support and accelerate the task to achieve the Global Goals for a Sustainable Development.
The Conference, called GIS for the United Nations and International Community Conference, explores how Esri's ArcGIS platform empowers the international community to achieve the global goals. The event is co-hosted by UNITAR's Operational Satellite Application Programme (UNOSAT) and Esri.
Topics and Schedule of GIS Conference
This year the Conference's focus is on challenges and opportunities of applying GIS to: People, Associations, Organizations, Planet, Prosperity and Peace. The participants have the possibility to learn from colleagues and GIS subject matter experts, how to improve workflows, offer stronger spatial analysis, customize web-based dashboard solution and empower the use of intelligent maps and apps.
The Event's schedule is chock-full of engaging breakout sessions with topics of interest to management, immersive technical workshops, inspiring Lightning Talks and powerful Plenary Session.
Join GisAction at the Event
GisAction, proud to participate at the event, is exciting to share its range of services and best case histories. The attendees have the possibility to discover our cutting-edge GIS technology that aim to optimize the process of analysis, presentation, management and communication of sensitive data.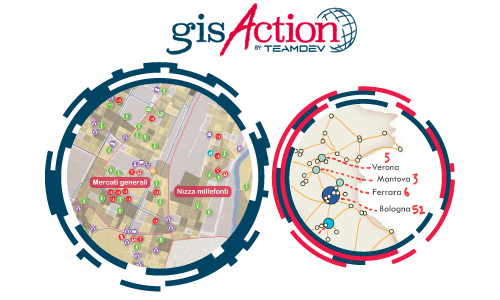 The innovative services allow Nonprofit Organizations, International Associations and all the stakeholders involved in global cooperation and sustainable development to:
innovate their workflows and design the geo technology integration
use GIS & MAPPING, a strong communicative power for integrated actions
assess their performance and enhance data and knowledge
empower communication and advocacy.
The Conference is a unique experiential opportunity to start leveraging powerful GIS technology in new ways to build a better world, by helping to end poverty, inequality, climate change, improving health and more.
For more information, please visit the website of the Conference "GIS for a Sustainable World Conference 2018".
Welcome to the first day of the Conference Gis for a Sustainable World! GisAction, proud to participate at the event, is exciting to share its range of services and best case histories. | @Esri @Esri_Nonprofit @EsriLive #gis4sdgs #GIS #GISfortheUN pic.twitter.com/S5JzwbeR50

— GisAction (@GisAction) 17 aprile 2018