gisAction is the first ArcGIS Online Specialty designated by Esri in Italy
gisAction is a brand of TeamDev – Esri's official Silver Partner – and is the first Italian company to earns the prestigious ArcGIS Online Specialty recognition. The recognition is awarded directly by Esri.
ArcGIS Online Specialty
The designation is for Esri partner who have demonstrated over time significant skills and a consolidated expertise in the design and deployment of ArcGIS Online technology. Through this important contribution, Esri recognizes gisAction as a fundamental source for creating solutions, applications, services and content using the ArcGIS platform.
gisAction works alongside the main actors of sustainable development: International Organizations, Non-Governmental Organizations (NGOs) and Public Administration offering solutions to develop innovation's processes, new forms of cooperation and the decision making data- driven.
Through the ArcGIS Online platform, gisAction implements customized and scalable services and solutions for data collection in the field, analysis and geographical visualization in dynamic and interactive web maps, up to the creation of communication tools, advocacy and citizen science campaigns for public involvement.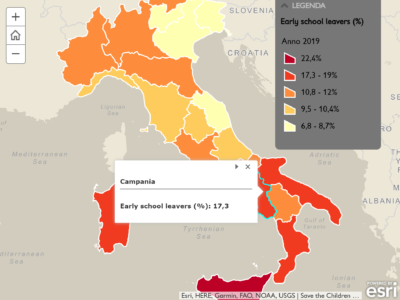 ESRI and gisAction
The recognition of ArcGIS Online Specialty allows gisAction to access even more effective tools for its customers and to contribute more effectively to the achievement of Sustainable Development goals.
Thanks to the collaboration with ESRI, the international leader in geospatial and geolocation systems, gisAction is able to develop high quality solutions for the needs of the future. In fact, our work sees us as protagonists in the challenges for a more sustainable and cooperative world; for this reason we are also one of the global partners of Esri "Nonprofit Organization Program".